Frequently Asked Questions
Select a Q&A Catagory or use search
EVENT INFO
Why do you paint horses?
---
By painting the bones, muscles, tendons, and other anatomical systems on the side of a live horse and watch it moves, really brings the subject to life, is more memorable and enables riders to appreciate in more depth 'How their Horse Moves.' A picture says a thousand words! Seeing a painted horse moving is really good for training the eye
---
Who benefits most from Horses Inside Out?
---
The horse! Improving welfare, comfort, performance and soundness is at the heart of Horses Inside Out. When we understand anatomy and how horses work, we can improve the way we manage, train, ride and look after our horses. Ultimately we can reduce the risk of injury and discomfort and improve longevity, welfare and performance.
---
Who are the live painted horse demonstrations for? And what to expect?
---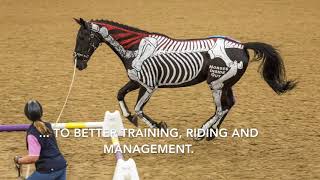 Basically Horses Inside Out is for anyone who is thirsty for knowledge and has the best interest of the horse at heart. Here's a video to give you an idea of what to expect at a demonstration.
---
Where do you hold the live painted horse demonstrations?
---
Anywhere I am asked! I am lucky enough to have been invited all over the world.
---
Why come to a Horses Inside Out live painted horse demonstration?
---
Seeing a horse painted with the internal structures on the outside helps us to visualise what is happening under the skin. After all, 'Understanding anatomy improves performance and reduces the risk of injury!' What you will learn depends on the demonstration but in general, you will appreciate more about range of movement, saddle fit, correct and innovative ways to stretch and supple your horse and how to identify and possibly avoid prospective problems. Also, understanding the logic behind anatomical training makes sense and helps riders train more effectively and sympathetically.
---
Do you run courses specifically for Professional Equine Therapists?
---
Yes I offer a range of courses specifically for professional equine therapists. I believe there are many factors that make the difference between a good and a great therapist. These include a thorough knowledge of anatomy and biomechanics, access to a large range of techniques in the toolbox and a good system for assessing horses. The Masterclass CPD courses I offer for qualified therapists include:
Assessing Posture,
Assessing Movement,
Developing Palpation and Advanced Soft Tissue Techniques,
Myofascial Chains and Release Techniques,
Joint Mobilisations and Musculoskeletal Testing,
Rehabilitation Techniques,
Pilates for Horses,
Bespoke Courses.
---
How do you arrange a demonstration, course or event?
---
Everything we do at Horses Inside Out is tailor made. So we will be able to suggest the best event for you considering your interests, number of people, facilities and infrastructure. To arrange a demonstration simply contact Shirley to discuss everything and ensure you get the most from your demonstration. Shirley@HorsesInsideOut.com +44 (0)1159 212648
---
What is your proudest achievement with Horses Inside Out?
---
There have been so many special moments. Horses Inside Out has taken me to places of which I could only dream. I have worked with so many interesting people and horses it is difficult to chose. My top three are probably:
Winning the Knowledge West Enterprise Award at the beginning of our journey which was a wonderful boost. Painting one of Her Majesty's horses at Hyde Park Barracks and meeting the Queen which was an unforgettable honour. Receiving an Award of Merit from the British Horse Society in 2018 in recognition of my work helping the equine industry.
---
What paint do you use and how long does it take to paint a horse?
---
I use a safe paint, hypo-allergenic, non-toxic and water-based which washes off at the end of the day. How long it takes depends on the design and amount of detail required but, for a live painted horse demonstration, where I paint 2 sides of 2 horses, we allow 6 hours. I like the painting process to be a relaxing one for everyone so we always allow plenty of time. I like to paint horses in their own stables with a haynet and have regular breaks for them to relax or go for a walk in hand.
---
Do you run any courses specifically for artists?
---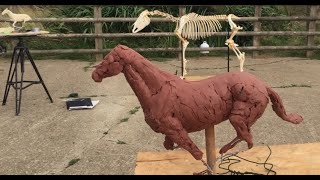 Yes I run courses for artists wishing to learn more about form and how horses are made. An understanding of anatomy can help to improve the accuracy of paintings and sculpture. Recently I have started working with the famous sculptor Judy Boyt. Together we are offering some anatomy and sculpture courses.
---
Do you run any courses specifically for saddlers?
---
Yes I run an applied anatomy and biomechanics course for saddlery professionals in conjuction with Laurence Pearman from the Society of Master Saddlers. This course looks at practical aspects of applied biomechanics and anatomy of the horse's back and head. It takes an in-depth look at the structure and function and relates it to way of going and saddle and bridle fit. The course is open to all fully qualified, practising and trainee saddlers, saddle fitters, saddle designers and saddle makers.
---
What type of courses do you offer?
---
As well as live painted horse demonstrations, we offer courses for everyone within the equine world. For horse owners and riders there are video-based talks and practical workshops on Pilates for horses, massage, and movement. For coaches, instructors and judges the applied anatomy and biomechanics is ideal. We also offer courses specifically for professional therapists, hoof care professionals, saddlery professionals and equestrian artists.
To truly understand what is happening on the inside, we also offer annual dissection workshops.
---
---
ABOUT US
What is Horses Inside Out?
---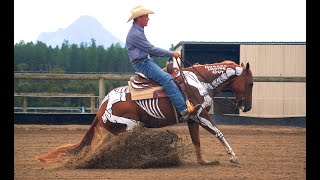 Horses Inside Out is an educational service delivered in a fascinating and fun way. Its purpose is to show riders, trainers and therapists how, by understanding the anatomy, biomechanics and physiology of the horse, they can improve performance, maintain top physiological condition, manage horses for optimum muscular comfort and performance and reduce the risk of injury.
---
When did you start Horses Inside Out?
---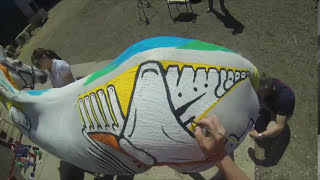 Horses Inside Out started in 2006. Since its inception Horses Inside Out has grown beyond recognition. We have been to so many different equestrian setups and worked with so many interesting horses and people. We continue to grow, learn and improve. Here's a video which I made in 2016 to celebrate 10 years of Horses Inside Out.
---
What made you think of the idea?
---
As a Sports and Remedial Therapist and riding coach I realised that many of my clients could benefit from understanding more about anatomy, biomechanics and range of movement. I began by holding small workshops at my yard in Cirencester where I used paint to indicate the locations of different structures within the body. Quickly realising this was a good way to illustrate what is happening under the skin as the horse moves, I developed the technique developed and improved from there.
---
How has Horses Inside Out developed?
---
From originally giving talks to horse owners, we are now a truly international organisation offering courses and demonstrations all over the world. I have appeared on a number of television programmes including; BBC's Countryfile, The One Show, ITV's Pet Nation and Animals at Work as well as having been privileged to give talks at WEG, to the World Class Development Squad and the Global Dressage Forum.
---
Do you have horses of your own and do you compete?
---
Yes, I have two. Freddie Fox is the star of Horses Inside Out. He has a very kind, patient nature and loves to be the centre of attention. He is on the front cover and has been the main model for my books and DVD's. He has been featured on TV and in National newspapers, riding and pony magazines. Together we competed up to intermediate level. Now he is retired he enjoys massage, pilates, every possible comfort and quiet hacks through the countryside.
Arty is a beautiful grey Irish Sports Horse being groomed to follow in Freddie's footsteps. I have competed up to advanced level eventing, medium level dressage, British showjumping and team chasing. I also represented Great Britain at the Student Riders Nations Cup in Canada where I achieved individual gold for Dressage. Currently I am training Arty to compete.
---
What Qualifications do you hold?
---
I am a British Horse Society Senior Coach, a Human and Equine Sports and Remedial Therapist and a McTimoney Corley Therapist. I hold a first class honours degree from the Royal Agricultural University in Cirencester. I have attended numerous short courses relating to anatomy, biomechanics and physiotherapy and follow a course of Continual Professional Development. I endeavour to meet world leaders in anatomy and biomechanics and study both historical and new texts in a quest for more knowledge.
---
When did you decide to write a book?
---
My first book How your Horse Moves was published by David and Charles in March 2009. It is now available in 17 languages and used in universities and colleges throughout the world. I have since gone on to publish:-
DVD: Movement from the Anatomical Perspective,
Pilates for Horses: An Exercise Index for Horse Owners
Horse Anatomy for Performance - published by FW Media
DVD: Pilates for Horses
Anatomy Poster Books Volume 1 and 2
Posture and performance - published by Quillar publishing
The anatomy chapters in the BHS stage 2, 3 and 4 manuals.
---
---